Be Your Best You.
Protect and Maintain Your Health for a Lifetime
Are You Getting Adequate Daily Nutrition?
In today's busy world, many women underestimate the importance of achieving proper levels of micronutrients each day. The USDA recommends that adult women and men load up 50% of their dinner plate with fruits and vegetables. But it can be challenging to incorporate this amount into your daily life for many reasons. The shelf life of produce is short, preparing healthy meals is time-consuming, and many women prefer to grab fast food while on the run. Studies show that 80% of today's chronic diseases are preventable with a healthy diet, specifically the vital nutrients we get from fruits and vegetables. Women who miss out on all the health-supportive benefits of fresh produce are at risk for nutritional deficiencies and chronic health consequences. Thanks to Dr. Nandi, finally there's a solution!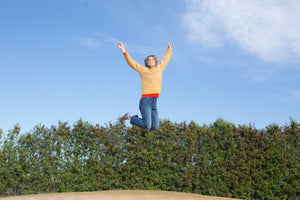 Your Secret Weapon for Vibrant Health, Happiness,and Longevity
Women have unique nutrient needs. While they require fewer calories than men, they have specific physiologic, neurologic, and hormonal distinctions throughout their lifecycle that impacts their nutritional needs. For example, due to hormonal changes associated with menstruation and childbearing, women are more susceptible to iron-deficiency anemia, weakened bones, osteoporosis, and loss of muscle mass. Distinct from those for men, women's nutritional requirements must be met to avoid serious deficiencies and lessen the risk for chronic diseases as you age.

At Health Hero Pharmacy, we've put three of our most effective products that promote and protect your overall health into our Women's Health Bundle. Personally curated by Dr. Nandi, each of these organic products are physician-formulated, and include the most studied and bioavailable ingredients to support all your nutritional needs during every stage of your lifecycle.

Our Women's Health Bundle Includes...
Super Greens
Promotes Healthy Immune Function
Provides Full-Spectrum Superfoods
16 organic Berries, Vegetables & Greens
FODMAP-Compliant
Certified Organic
Sip your way to superior health with Super Greens. Super Greens is a great tasting convenient shake that provides the most beneficial nutrients from a diverse blend 16 organic superfoods, including berries, fruits, vegetables, and greens to support balanced nutrition. These delicious superfoods are jam-packed with nutrients, antioxidants, and polyphenols, which studies show have a positive impact on overall wellness. Just one scoop mixed into your favorite shake or drink provides you with the recommended amount of daily nutrition for optimal health and well-being.
Essential Multivitamin for Women
Provides Baseline Nutrition for a Variety of Protocols
Full-Spectrum Antioxidant Protection
Protects Against Dietary Deficiencies
Builds Metabolic Reserve
Supports Healthy Metabolism
Essential Multivitamin for Women is a comprehensive multivitamin and mineral blend designed to support your ideal daily intake of vitamins and minerals by providing a high-quality source of nutrients in the most bioavailable form. As a complete multivitamin, Essential Multivitamin for Women provides the highest quality nutrients so you can build a healthy micronutrient reserve. Essential Multivitamin for Women includes an optimal 2:1 magnesium to calcium ratio, along with key antioxidant vitamin C, natural vitamin E mixed tocopherols, and carotenoids to protect cells from free radical damage. It also contains the synergistic blend of vitamin K2 and vitamin D3, which are critical for supporting bone strength and cardiovascular health. B vitamins support energy production, folate improves methylation, and Albion® TRAACS® chelated mineral complexes enhances bioavailability.
Promotes Healthy Connective Tissue Biosynthesis
Supports Cartilage, Tendon, and Ligament Self-Repair
Maintains Joint Lubrication and Cushioning
Promotes Normal Inflammatory Response
Rejuvenates Hair, Skin and Nails
Collagen is a crucial element of your skin and connective tissues. Yet over time, lifestyle factors can cause reduced elasticity in cartilage, tendons, ligaments, and your skin. You may notice increased wrinkles, decreased dermal matrix strength, and soft tissue and joint discomfort. Collagen Youth is your best anti-aging defense. It helps to repair your skin and give it a youthful glow, while improving overall connective tissue health.
Better musculoskeletal health
Antioxidant protection
Healthier hair, skin, & nails
Less "brain fog"
Easier weight loss
Balanced metabolism
Stronger bones & joints
Higher energy
Better moods
Improved sleep
Promotes heart health
Reduced aches and pains
Stronger immunity
Healthy digestion
Improved sleep
Rooted in Nature, Backed by Science
You care about what you put into your body, and so do we! Whenever possible, we believe in using Mother Nature's most potent ingredients backed by clinical studies. When an ingredient is "clinically studied," that means it's supported by the latest research, and thoroughly tested for efficacy, safety, and transparency. So, when we make claims about our Health Hero Pharmacy supplements and ingredients, you can trust they're backed by science. Our mission is to improve lives by combining the highest quality natural ingredients with science-based formulations for superior health results.
Purity You Can Trust
We consistently exceed both industry and regulatory standards for maintaining freedom from allergens and environmental contaminants to ensure the continued purity of our products. Our expertly designed formulas include only the precise therapeutic amount of ingredients without gluten, corn, GMOs, sugars or artificial flavors or colors. You'll enjoy complete peace of mind knowing that we work tirelessly to ensure the purity and freshness of each supplement.
Are you Ready to Enjoy Superior Health for a Lifetime?
Bundle and Save!
Take Advantage of This Discounted Offer and Order the
Women's Health Bundle TODAY…
Women's Daily Bundle
$149.99
$5 a day! A cup of coffee a day!